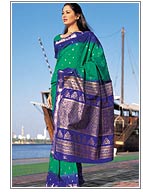 Paithani sarees are the famous silk sarees of Maharashtra. It is a hand-woven sari of gorgeous colours, intricate design and painstaking labour and treasured as a valuable possession in every Maharashtrian family. No Maharashtrian wedding trousseau is complete without the Paithani sari.
Fabric in Paithani Sarees
The Paithani sarees, are made of silk in rich, vivid colours with gold embroidery. In the modern Paithani sarees, silver threads coated with gold are used instead of pure gold threads.
Design
Distinctive motifs such as stars, peacocks, mangoes, flowers, coins, fans, petals, lotus, coconut etc. are woven into the sari. Many of these designs are found on the border and pallu in different sizes and patterns. In the pallu, the base is in gold and the pattern is done in silk, giving the whole sari an embossed look. Paithani are generally decorated with the gold dot or coin motif. The speciality of the paithani is its border and pallav.
Colours
These sarees have a special dhoop-chaav (light and shade) effect which is achieved by bringing two different coloured silk threads together in the process of a simple tabby weave. The shades vary from vivid magenta, peacock greens and purples. The dominant traditional colours of vegetable dyes included blue, red and green, black and white, black and red, pink, purplish red and yellow.