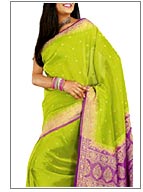 An important political and cultural centre situated in Madhya Pradesh, Maheshwar is famous for a particular type of saree called Maheshwari saree, which is a speciality of this city. These sarees are famous throughout India for their unique style of harmonious balance between the border and the body of the saree. The grace and elegance of these sarees is hard to match.
Fabric in Maheshwari Sarees
The Maheshwari saree is woven mostly in cotton and silk. The saree woven from pure silk, is famous for its strength, elasticity and a unique luster of the fabric. Nowadays these sarees are made in natural and artificial silk as well.
Colours and Design
The typical Maheshwari saree is either chequered, plain or has stripes, combined with complementary colours. These sarees have a trademark border and pallu, setting them apart from the Paithani, Patola, Kancheepuram and the rest. Originally, the pallu is particularly distinctive with 5 strips, 3 coloured and two white alternating, running along its width. The reversible border of the saree known as bugdi which can be worn either side, is a speciality. It has a variety of leaves and flowers on the border, in karnphool pattern, which is quite popular.
But now a lot of experimentation with respect to the fabric and motifs has been done in Maheshwari sarees, no doubt to increase its appeal in a market of changing and varied tastes. The use of zari and kinari is also unique to the Maheshwari saree. The golden thread is used to weave exotic motifs and designs on the body, border and pallu of the saree.