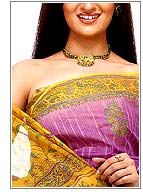 Kota in Rajasthan, India is the home of the famous Kota Doria sarees made in small villages around the Kota city. These sarees are ideal for Indian summers.
Fabric in Kota Sarees
Kota sarees are woven in cotton and silk fabric. Handloomed Kota Doria sarees in pure cotton very rare nowadays but Kota sarees in polyester fabric is gaining more and more ground. There are also many varieties of machine loomed Kota fabric, which is also soft cloth with an airy feel that picks up the slightest breeze.
Design
Kota sari have a special style which uses a combination of cotton and silk threads to create an almost graph like pattern called khats (squares formed between the different thicknesses of fibers) where cotton lends firmness and silk gives airy soft feel. This is called "Kota Doria" weave or the the chequered weave.
The chequered weave of a Kota sari is its unique characteristic. Besides the chequered pattern, there are other weaves in complicated designs in a combination of silk and cotton. Some of the weaves also have a narrow border edged with Zari.
In the case of sarees with designs, the threads are dyed prior to weaving. The sarees have designs that vary from the traditional jal, checks, jacquard and jamawar pallus to a Chantilly lace-effect and intricate borders of gold and silver thread work.