B2b Marketplace
Resource Hub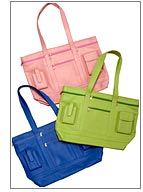 For all fashion conscious women in India, handbag collection has become more of a fashion trend. There is a handbag for almost every occasion and season. Available in different shapes, sizes and styles, these designer woman handbags are simply rocking.
Varieties of Handbags
Casual bags for daily use
Accessory handbags for women
Designer handbags with beads, studded pearls and sequin work
Leather bags
Beaded bags
Evening bags meant for the special evening
Shoulder bags for teens and college goers
Cosmetic bags for carrying cosmetics
Along with these, there are straw bags, jute bags and tweed bags and so on.
Shoulder bags command the supreme position followed by handbags and coin purses. These bags come in beautiful shades, patterns and designs and shapes. Handbags have acquired a leading position in the women's list of accessories and women prefer to carry a bag that matches with her dress.